Should Texas Accident Victims Settle Their Case or Take It To Trial?
A serious accident takes a serious toll on its victim and on the victim's family. Most accident victims must spend months recovering from their injuries. The accident victim may miss work, time with family and other activities that they would typically enjoy. In addition, most accidents result in extensive medical bills that can be difficult to pay, especially for those who have not been able to work for months.
Under Texas law, accident victims may pursue claims against negligent parties responsible for their injuries in order to obtain compensation for their losses. A lot of misinformation is out there about the Texas personal injury process. Part of this is due to the complexities of the system. However, there is also some misinformation that is intentionally spread by those with an interest in limiting the number of personal injury cases and limiting the size of personal injury verdicts.
At The de la Garza Law Group, every case is personal. We recognize that every client and every case are different and require personalized attention in order to properly seek just compensation. While we have over 20 years of experience handling Texas personal injury cases, we cannot know what is important to our client until we take the time to get to know them and how the accident has impacted their life. Our team of dedicated Houston catastrophic injury lawyers are dedicated to assisting clients overcome the hurdles along the recovery process and helping them get their lives back on track.
Statistics
According to a recent study, 70 percent of personal injury plaintiffs received some form of compensation, either through settlement negotiations or at trail.
96 percent of these cases were resolved through settlement.
The amount received by the plaintiffs were as follows:
Less than $3,000: 16 percent
$3,000 to $10,000: 37 percent
$10,001 to $25,000: 21 percent
$25,001 to $75,000: 10 percent
More than $75,001: 16 percent
On average, those represented by attorneys fared better than unrepresented accident victims:
Represented by an attorney: 91 percent received compensation
Unrepresented: 51 percent received compensation
For those accident victims who obtained compensation for their injuries, the average amount was higher for those represented by an attorney:
Average recovery for accident victims represented by an attorney: $77,600
Average compensation for unrepresented accident victims: $17,600
Accident victims who accepted the first settlement offer obtained significantly less compensation for their injuries:
Accident victims who accepted the first settlement: $11,800
Accident victims who accepted a subsequent settlement offer: $42,500
Why Are Settlements So Common in the Houston Personal Injury Process?
It is difficult to have a conversation about personal injury law without someone mentioning the statistic that over 95 percent of all cases do not make it to trail. This is not to say that 95 percent of cases do not result in the accident victim receiving compensation for their injuries. Instead, this statistic refers to the high rate of settlements in injury cases. This figure is an average of all types of civil cases, and certain types of cases are more or less likely to settle.
Regardless, the number of Houston personal injury cases that result in settlement is high. To understand the reasons, consider the interests of all the parties involved in a case.
Why a Plaintiff May Want to Settle Their Case
Being involved in a serious accident is a traumatic experience for accident victims. Not only that, but for most accident victims, a personal injury case is their first experience with the civil justice system. Thus, in general, accident victims lack knowledge of the system, its players, and how cases progress through the system. This only adds to the post-accident stress and that accident victims must deal with. Add to this the fact that an accident victim has likely missed weeks or months of work and may be falling behind in rent and bills. Overall, the situation an accident victim finds themselves in, even after they have physically recovered from their injuries, is a challenging one.
It may be tempting for an accident victim to accept the first offer of compensation that comes across the table. Initially, this may not be a bad idea because by accepting an offer early on in the process a significant amount of stress and uncertainty may be avoided. However, studies have shown that by accepting the first offer, plaintiffs recover only about 25 percent of what they would if they rejected that offer and engaged in further negotiations or took the case to trial. The reason for this is primarily due to the way insurance companies view personal injury lawsuits.
Why an Insurance Company Wants to Settle a Case?
When discussing Houston personal injury cases, one of the most important things to understand is that the vast majority of these cases are defended not by the at-fault party, but by their insurance company. Individuals and businesses purchase liability insurance policies. Under the terms of the policy, the insurance company will cover the costs of the insured and retain teams of skilled lawyers to defend the victim's claims.
The insurance business, by its very nature, is a business of risk management. Insurance companies determine how much they need to charge a person or business to accept the risk that defending that party will result in the company taking on.
For insurance companies, defending against a personal injury lawsuit is just a part of doing business. Insurance companies will assess any claim made against the company and try to get the case to settle for as little as possible. Generally, insurance companies prefer to avoid the uncertainty of taking a case to trial. They know that injury victims are often quite desperate for any compensation, so they frequently make low-ball offers, especially before an accident victim retains a dedicated personal injury lawyer.
From the insurance company's perspective, when an accident victim retains an attorney, the case gets a lot more expensive because, at that point, they know that they can no longer take advantage of the accident victim. In fact, a recent study indicated that, not only re accident victims who work with an attorney more likely to obtain compensation for their injuries, on average, they also obtain more than four times the amount of money than unrepresented plaintiffs.
What About the Attorneys and the Judge?
While the main parties in a Texas personal injury case are the plaintiff and the defendant, to fully understand why the rate of cases the end up settling is so high, it is helpful to consider the situation from the perspective of the attorneys and the judge.
Attorneys are generally busy and settling a case may be in an attorney's best interest. For example, an insurance defense attorney will typically handle a massive caseload. These lawyers are paid a salary and may receive bonuses depending on the number of cases they settle. Thus, for a defense attorney, settling a case means they will spare the time needed to prepare for trial and they will have more time to devote to their other cases.
Similarly, many plaintiff's attorneys are looking to make a quick dollar and may not necessarily have the same personal interests as their client. The additional time spent preparing for trial may not be worth the additional work and risk of taking the case to trial. When a client accepts a settlement offer, it is a guaranteed payday for a plaintiff's attorney. Of course, plaintiffs' attorneys are duty-bound to act in their client's best interest, and most closely follow that obligation. However, the attorney's own interests can subconsciously slip into their assessment of the case and how they advise their client.
Finally, many judges have extremely large caseloads, or dockets. A judge's performance is based on the number of cases they are able to resolve. Thus, judges may pressure attorneys and, in turn, the parties, to settle a case to make room for other cases on the judge's docket. Of course, a judge cannot force a party to offer a reasonable settlement offer or require a party accept an offer, however, judges can encourage the parties to come to an agreement.
Should Houston Personal Injury Plaintiff's Settle?
One of the most common questions accident victims ask early on is whether they should settle their case or take the case to trial. The answer depends on the facts and circumstances of the case. But one thing is certain: preparing the case for trial makes it likelier to settle favorably, whereas preparing the case to settle will often result in trial. This means that if the plaintiff's attorney develops the case aggressively, as if it were going to trial, they will discover critical information that will become powerful evidence at trial. With this evidence in hand, the plaintiff can pressure the defense to offer more money to avoid a large verdict.
When a defendant makes a settlement offer, they will typically consider several factors.
The likelihood and extent to which the insured will be found at fault for the accident;
The nature and extent of the plaintiff's injuries and their impact;
The perceived willingness of the plaintiff and their attorney to take the case to trial.
When it comes to settlement offers, there is a major difference between an initial settlement offer and those that may come later in the process. Insurance companies are businesses and must take in more money in monthly premiums than they pay out in claims. As a result, an insurance company's approach to a personal injury case will be to make it go away for as little money as possible. Thus, insurance companies frequently approach accident victims shortly after an accident and offer to settle the case for less than the plaintiff deserves. Unfortunately, given the pressures facing accident victims, many accept these initial offers which may be just a small fraction of what the case would be worth if the victim had hired a good attorney.
Once an accident victim retains an attorney, insurance company lawyers can no longer reach out directly to the accident victim and must go through their attorney.
Damages in a Texas Personal Injury Lawsuit
Texas personal injury damages are divided into two general types: economic and non-economic. Economic damages refer to those damages that are relatively easy to quantify. For example, the following are typical examples of economic damages:
Medical expenses
Loss of earning capacity
Non-economic damages, which are those that are harder to quantify but equally as important, include:
Physical pain
Mental anguish
Physical impairment
Disfigurement
For each element of damages, the jury can award money for past and future damages.
In wrongful death claims, there are other elements of damages that the deceased's family members may pursue. These include:
Loss of advice and counsel, which means the monetary value of the professional recommendations and personal guidance the decedent might have rendered to the plaintiff if the decedent had survived.
Loss of services, which means the loss of the performance of domestic and household duties that the decedent used to perform
Expenses for psychological treatment
Loss of companionship and society
Loss of inheritance, which means the present value that the decedent would probably have added to the estate and left at natural death but for the wrongful act causing the premature death
The final type of damages are punitive damages. Punitive damages are not intended to compensate the plaintiff for their injuries but are instead designed to punish a defendant for their willful act or omission or gross negligence that resulted in the injuries and/or death.
Generally, damages in Texas personal injury cases are not capped. In certain scenarios, damages caps will apply. If a damages cap applies, this will impact settlement offers as well as the total amount of compensation that an accident victim can obtain at trial. In Texas, the following damages are capped:
Non-economic damages in medical malpractice cases;
Punitive damages; and
Damages assessed against a public entity.
Consult With an Aggressive Houston Personal Injury Lawyer for Immediate Assistance
At The de la Garza Law Group, we pride ourselves in providing accident victims representation that is tailored to the needs of their case. To us, every case is personal; no two clients and no two cases are the same. And while we have over 20 years of experience handling Texas personal injury cases, we understand that we cannot know what is important to you and your family until we take the time to get to know you and how the accident has impacted your life.
At The de la Garza Law Group, our team of dedicated Houston personal injury lawyers is dedicated to helping clients obtain compensation for their injuries. We understand that your emotional and financial wellbeing are likely in jeopardy after a serious accident. We offer all clients a free, no-obligation consultation in which we will provide an honest evaluation of your case. To learn more, call 713-784-1010, or call toll-free at 844-784-1010. We proudly represent clients throughout Texas including the greater Houston area, Sugar Land, Katy and The Woodlands (Harris, Fort Bend, Brazoria, Chambers, Jefferson, Galveston and Montgomery Counties).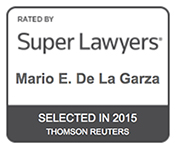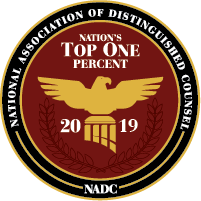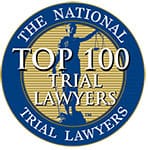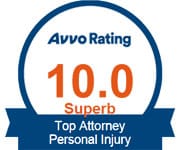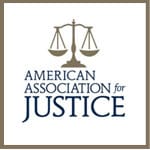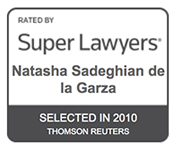 From our clients
I would definitely use Mario again
Mario was very professional at all times. The one thing that made me at ease with him was that when I would text him, I would get a response every time within 10 minutes.or less. There was always an answer from him every time I had a question. I would definitely use Mario again if needed and would highly recommend him to someone else needing an attorney.
- Robert
From our clients
Its like a breath of fresh air having someone like Mario fight for you
I have been a client of Mr. De la Garza two times now where he shows professionalism and honesty and a definite care for the people he represents I got in a car accident in February and it caused such a hardship coming close to an end its like a breath of fresh air having someone like Mario not only represent you but fight for you, I hope not to have any more accidents but if I did I will look forward to working with him again!
- Ashley
From our clients
Hands down the best law firm in Houston
Mr. Mario de la Garza and his team are one of a kind and hands down the best law firm in Houston. They really do care about you and take your case seriously. He takes your calls and actually takes the time to talk to you and explain how everything is going to work and he leaves no questions unanswered. Thank you Mr. Mario for everything you did for me.
- Christina
From our clients
We highly recommend this firm
On behalf of my family, we are extremely grateful to The de la Garza Law Group for all their legal assistance. One important factor for us was that this involved dealing with family where we all lived outside of Texas, which required consideration for numerous phone calls to different time zones to discuss the case.
- Mariann